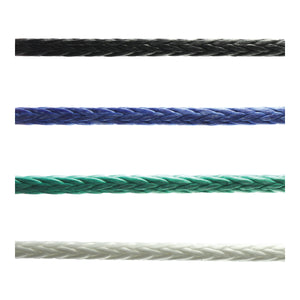 Marlow D12 Technical Marine Rope
Marlow also manufactures D12 - a range of pre-stretched 12 strand ropes made with Dyneema up to 22mm diameter. D12 offers the same high strength, low stretch characteristics of T12, but is lighter, has better abrasion resistance and demonstartes significantly better flex fatigue performance around sheaves and pulleys.  D12 can also be coated to work with blue or green screen technology and is now available using new Black Dyneema.
| | |
| --- | --- |
| Diameter | 10mm |
| Avg. Breakload | 9,270kg |
| Min. Breakload | 8,350kg |
2 Weeks, Please contact for choice of color. Other Diameters available upon request.