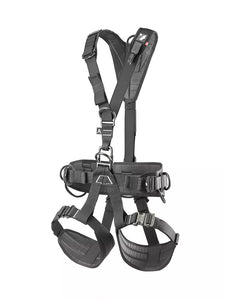 Eyolf Viking Rope Access Harness
A100 A_Black
Full Body Rope Access Harness
The Viking Rope Access Harness has been the workhorse of the rope access industry since 2005.
Customizable: with different top webbing colour options.
Material: Polyester and Nylon Webbing
Weight: 2.6 kg
Max load: 154 kg – 350 lb or double for pick-off rescues
Standards Compliance:  CE certified to EN 361: 2002, EN 358: 1999 & EN 813: 2008 | | Meets CSA Z259.10 – all classes, ANSI Z359.11
Size A: Waist 77 – 115 cm | Leg 54 – 67 cm | Height +/- 140 – 180 cm
Size B: Waist 82 – 125 cm | Leg 60 – 83 cm | Height +/- 170 – 200 cm
Size C: Waist 96 – 134 cm | Leg 70 – 89 cm | Height +/- 180 – 210 cm
RFID can be added for an extra 50 cents per chip and pouch – details:
RFID tag is a R6 chip type – Frequency it operates on is UHF 860-960 MHz. and uses an ISO18000 6C protocol
Designed to be a workhorse, The Viking harness has been proving itself since 2005. An amazingly comfortable harness, the Viking is easy to don and has a uniform fit to allow you to move around in it freely.
Unique leg support is provided with The Viking's wide, laminated padding design. Not made just to look good on a mannequin.
The webbing around the torso uses ergonomically formed laminated padding to prevent chafing. We wear these too, you know.
The Viking harness has 6 steel D-rings for climbing ladders, tower positioning, descender attachment, travel restraint back D-ring, and fall arrest.
The square quick link (CE/NFPA) or the C061 carabiner allows to be fitted with the Crawler chest ascender with the sewn in support strap.
The Viking Harness features 3 durable gear loops.
Quick connect buckles for easy donning. Why should you be inconvenienced while you work?
Hook and loop pull out loop for parking your fall arrest lanyard.
This harness is customizable with different top webbing colour options.
The choice of professionals all around the world.
---
We Also Recommend
---