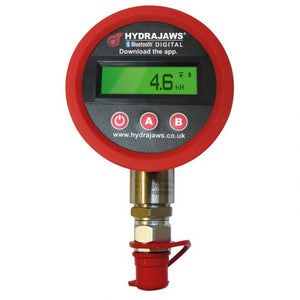 Hydrajaws Digital DS Gauge c/w Male Coupler, 25kN 5620lbf for M2000
Digital Gauge with Male Coupler for the HydraJaws M2000, M0095, M0097.
'Backlight' facility for improved viewing in low light applications.
Tougher outer gauge protective cover supplied as standard.
Improved interface allowing easier setup and operation of facilities such as 'peak hold'.
Improved transducer - 1,000 bar as standard.
Bluetooth® compatible enabled in-app
Standard 25kN
The Digital gauge has an improved accuracy class of +/- 0.5% full scale deflection (Analogue gauge accuracy class of +/- 2%).
The ambient temperature operating range is -20 degrees C to +35 degrees C.